Wilt-Pruf
---
Wilt-Pruf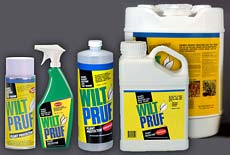 Wilt Pruf plant protector is a proven anti-transpirant, that when applied once, will protect your plants all season against winter kill, windburn, drought, and transplant shock. Wilt-Pruf is a natural pine oil emulsion that is not damaged by freezing, will not solidify in storage, and is non-toxic to eyes and skin. Wilt-Pruf acts as a protective coating, holding in moisture on plant foliage and stems, substantially reducing water loss during periods of plant stress. Wilt-pruf dries to form a clear, colorless, flexible, glossy film without interfering with plant growth or materially affecting respiration, osmosis, or photosynthesis.
Wilt-Pruf will protect shrubs such as evergreens, rhododendrons, azaleas, hollies, boxwood, laurel, and many other ornamentals. Unsightly wind barriers may also be eliminated. Wilt-Pruf is excellent for preserving the moisture in cut or live Christmas trees, wreaths, and greens. Tubers, bulbs, bare root stock, and dormant roses may be dipped or sprayed to prevent them from drying out during storage. Avoid using on cedar, juniper, cypress and arborvitae where extreme sudden freezing may occur within two months of application.
Thank You for visiting Snow-Pond Farm Supply and working toward a healthy planet!