Composting Aids
QUICK LIST:
---
Bos Bags

Bos Tip Bags come in a variety of sizes to get the work done. Strong handles are easy to lift and empty. Washable surfaces. Made from extra strong woven polypropylene. Choose Your Size:
Handy- 12" diameter x15"
Popular-23" diameter x 18"
Jumbo-31" diameter x 18"
Mammoth- 26" diameter x 29"
Bos Standard Tote Bags are tough, durable, stand up alone, yet fold flat. 18"x22"x22"
Bos Bag Dumpster 15"x27"x27"
Bos Sheet 5'x5' with handles!
Wire Compost Bin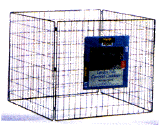 Wire Compost Bin - Measures 30" x 30" x 36". Strong, wire-coated construction. Open top helps with ease of aeration with a compost turner and access to rich compost.
Compost Turner

Compost Turner/Compost Aerator for activating the compost heap at all different levels thus assisting decomposition, it has two activating wings which fold to push into the compost and open to aerate. The tool is made out of non rust steel with a vinyl hand grip. Grip the vinyl coated handles and plunge the tool into the compost pile. As it's pulled out of the pile, the blades open to aerate and turn the compost.
Thank You for visiting Snow-Pond Farm Supply and working toward a healthy planet!