Applicators
QUICK LIST:
---
Dramm SiphonJect

Dramm Siphonject is an all purpose accessory for mixing fertilizers and water combinations for your garden. Made of heavy duty brass, it also comes with a strong siphon hose for convenience. Whether you 're fertilizing your lawn or garden, this Siphonject is the best tool to have around. It's consistent mixing ratio doesn't change, even if water pressure changes. Just hook up to any Hose-end sprayer, and your ready to flow! (or is that go? ).
Dramm Watering Wand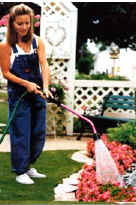 Dramm Watering Wands are American Made with a Lifetime Guarantee. Full water flow for quick watering, Hand crafted brass shut off, and a foam cushion hand grip. This 30" Aluminum Watering Wand can handle any big watering job from outdoor beds, to gardens, to saplings, to shrubs. (Assorted Colors).
Hose-End Sprayer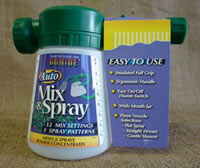 Bonide Hose-end Sprayer
This Hose-end Sprayer automatically mixes and applies the proper water to product dilution. SImple to use. No mixing, no measuring necessary. Unsued contents can be returned to the original container. No Waste! Sprayer has 12 settings, 3 spray patterns: Flat fan for lawns, straight stream for trees, and gentle shower for tender foliage and blooms. Ideal for insecticide, fungicide, herbicide and fertilizer concentrates.
Thank You for visiting Snow-Pond Farm Supply and working toward a healthy planet!