Animal Repellents
QUICK LIST:
---
Predator Urines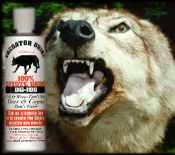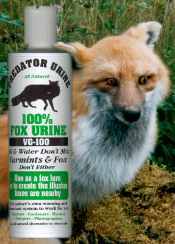 Predator Urines are 100% natural, organic method to deterring small critters from your yard and surrounding areas. Hunters, trappers, and others who interact with wild animals have long understood how the selective uses of animal urines can trigger instinctive reactions. Now you can too. 100% real Coyote urine and creates the illusion that coyotes are present. Deer, raccoon, possum and other animals react instinctively to the fear of this predator. 100% real fox urine and makes varmints like rabbits, squirrels, chipmunks woodchucks & groundhogs think foxes are around. 100% real wild bobcat urine and makes varmints like mice and moles think bobcats are present. 100% real wolf urine and makes large prey like moose, elk, deer, coyote, bear and even camels! Now you might be a little hesitant at first and even ask yourself "How in the world do they collect this urine?" Well, we also have the answer: Urine is collected from animals in game farms, zoos and preserves. These wild game care providers are fully regulated by the appropriate state agencies. Those agencies conduct regular inspections of each facility to assure that the facility meets all health and treatment standards established by each agency. The urine is collected via floor collection drains in pens and cages and the animals are always treated in a most humane manner. In addition, these wild game care providers find that the revenue generated by the renewable resource of urine delivers a much needed income stream that allows these providers to keep many more animals alive and healthy.
Shake-Away Animal Repellents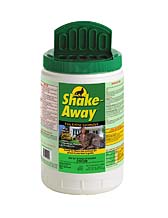 Shake-Away for Small Critters is made from Fox Urine Powder uses the effectiveness of fox urine and blends it together with our first-of-its-kind, patented, powder formula, to create the safest, simplest, most effective, 100% organic method to keep pesky animals away. Fox urine powder won't soak into the ground, evaporate or freeze like liquid fox urine. Fox urine powder works longer and smells stronger than liquid fox urine. In the past, many have used such deterrents to help direct small critters to and from food sources. Shake-Away is 100% organic fox urine powder. It will create a misleading image that foxes are present in your lawn or garden and this will help direct small critters away, as the odor of a fox is a danger signal to small critters. Coverage of each 16 ounce bottle of Shake-Away Fox Urine Powder will cover approximately 300 to 500 linear feet when applied as directed. This is equal to 3000 to 5000 square feet of protection per bottle.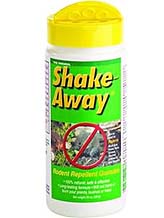 Shake-Away for Rodents is made from a combination blend of dried Bobcat and Fox urine into a powder formula. Patented 100% organic method to keep mice, rats, moles, voles, and shrews at bay. To protect against burrowing animals, sprinkle Shake-Away powder directly into every hole you find in your yard. gardens, etc. To protect against moles, sprinkle Shake Away in every hole you find in your yard and take a small stick or similar object and poke holes 2" deep every four feet along all tunnels. Sprinkle each hole with Shake Away, then cover with dirt. Shake Away is 100% natural and is safe for use around humans, animals, pets, plants, bushes, trees, and the environment.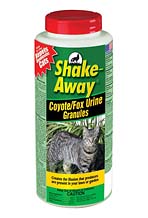 Shake-Away for Domestic Cats is made from from a combination blend of dried Coyote and Fox Urine in a powder formula to keep Domestic Cats away. 100% organic and natural. Safe, Effective method of controlling animals. If a large area is needed to be covered, use Shake Away every 3 feet, skip 3 feet, then repeat this process for maximum protection. You can sprinkle Shake Away lightly over bulbs, bushes, flowers, and your garden.
MoleMax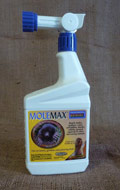 MoleMax is an effective means of repelling burrowing animals from desirable turf and ornamental planting areas. It can be safely used around children and pets when used as directed.
Thank You for visiting Snow-Pond Farm Supply and working toward a healthy planet!