Deer Repellents
QUICK LIST:
NOTE: Not all products on this page are registered for sale in all states. Please contact us to verify if a product is available for sale to your state.
---
Bobbex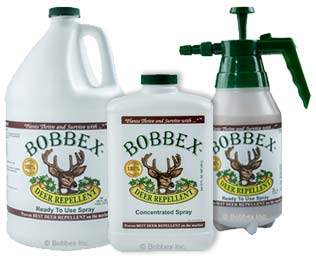 Bobbex is a plant growth stimulant for ornamentals, annuals, and perennials that helps them thrive and survive. Bobbex is an environmentally sensitive foliar spray concentrate containing commonplace natural and recycled ingredients. It is formulated and intended to applied directly on the surface of foliage, stimulating plant growth and vitality. It is readily diluted with water. The Ready-To-Use version comes in its own spray bottle. It is used on ornamentals, flowers and other non-food plants, leaving a long-lasting slightly visible, non-burning residue. This residue will not wash off with hosing or rain. Bobbex is also used to supplement the high concentrations of chemical ingredients in regular garden fertilizers, which generally do not contain microingredients. In addition to hormones, enzymes, natural ingredients, etc., Bobbex encourages microbial activity and provides a wide range of trace elements to plantings. These plantings may be located, for example in worn out soils around older homes where soil vitality may have been seriously reduced over the years by leaching, runoff, neglect or the presence of mature trees and shrubbery.
One other note about Bobbex: while formulated and intended to stimulate plant growth, it has been found to have a very desirable fringe benefit. This benefit can reward users with a very strong degree of protection against damage to ornamentals and flowers by the browsing of deer. Deer are turned away by the taste and odor of Bobbex. For Spring and early Summer use only. mix 1 part Bobbex to 8 parts water. As Fall approaches, use with lesser frequency, using your own judgement to new plant growth rate, variety, and deer encroachment. Allow to dry 4 to 6 hours, before rain, hosing, or irrigation. Bobbex is a year-round product for all types of planting, and is harmless to wildlife including aquatic life, pets, and humans
Not Recommended for food-producing plants
Deer Off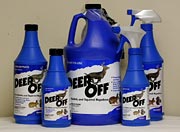 Deer Off repellent is a bio-degradable, environmentally friendly, and is not harmful to humans. It protects your ornamentals, plants, trees, buds, shrubs, grass, bulbs against deer year round. EPA registered, it is made from all organic ingredients, including inedible egg solids. Deer-Off will not wash away in rain or snow. One application will last up to 3 months. Mix 7:1 ratio on the concentrate to cover 4000 sqft.
Deer-X Netting

Deer-X Netting is protective fencing for Gardens and Landscaping. Can be used to protect ornamental plants, shrubs, trees, fruit and vegetable crops from destructive deer in those areas of the country where deer pose a serious problem. A strong and durable black polypropylene mesh. Deer-X offers the short term benefits of deer deterrence and easy installation at a price more affordable than metal fencing.
Shake-Away for Deer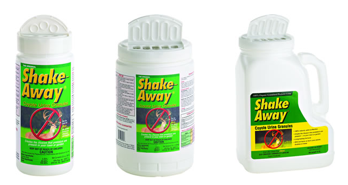 Shake-Away for Deer uses the effectiveness of coyote urine and blends it together with our first-of-its-kind, patented, powder formula, to create the safest, simplest, most effective, 100% organic method to keep pesky animals away. Coyote powder protects against Deer, Elk, and Raccoons, and won't soak into the ground, evaporate or freeze like liquid coyote urine. Coyote urine powder works longer and smells stronger than liquid coyote urine. In the past, coyote urine odors have been used by hunters, photographers, and the like for many years to help direct deer to and from food sources. Shake-Away is 100% organic coyote urine powder. Shake-Away Coyote Urine Powder will create a misleading image that coyotes are present in your lawn or garden and this will help direct deer away, as the odor of a coyote is a danger signal to deer. Coverage in each 16 ounce bottle of Shake-Away Coyote Urine Powder will cover approximately 300 to 500 linear feet when applied as directed. This is equal to 3000 to 5000 square feet of protection per bottle.
Thank You for visiting Snow-Pond Farm Supply and working toward a healthy planet!