Soil Moist
---
Soil Moist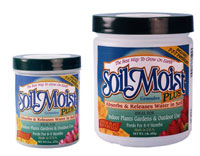 Soil Moist Polymer Products is a synthetic polyacrylamide with a potassium salt base. A particle size distribution has been selected to insure rapid initial uptake of water by a portion of the polymer followed by slower absorption of the water by the balance of the polymer. Soaking the crystals helps insure that both the soil and the polymer absorb water. Watering the plants for the first week as you normally would, then reduction rates can be established from their. As the potting system dries, the polymer (swollen with water) will slowly release its water reservoir.
Soil Moist reduces plant watering up to 50%. It helps to reduce soil compaction, lasts for several seasons, reduces plant shock, and will NOT float to the surface of the soil. Soil Moist products will not compete with the plant for water due to their particle size disbursement and absorption properties. Soil Moist will also not reduce air porosity in a confined potting medium. Convenient to use, and many benefits for your plants and you. Soil Moist can be used on Flowering Plants, Trees and Lawns, Gardens, Hanging Baskets, Potted plants, New Plants, Shrubs, and Flower Beds. Now grow beautiful plants with less water!
Thank You for visiting Snow-Pond Farm Supply and working toward a healthy planet!