Gloves
QUICK LIST:
---
Fox Gloves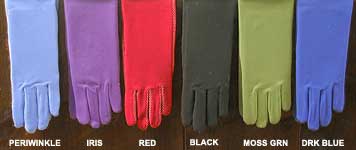 Fox Gloves Gardening Gloves come in several styles and an array of colors.They are sized simply - Small, Medium, or Large. These comfortable gardening gloves are made from Supplex nylon for toughness and long-lasting cottony soft feel. Lycra Spandex supplies stretch, form fit and extraordinary dexterity for all. Satisfaction Guaranteed! Breathable, washable gloves for those of us who are allergic to latex dipped gardening gloves - a great alternative! We presently offer the most popular colors and sizes.
Fox Glove "Elle" - Same as the basic glove but with extra long sleeve to protect your forearm.
Fox Glove "GRIPS" - Same features as the basic glove but with textured rubberized palm for better gripping.
Mud Gloves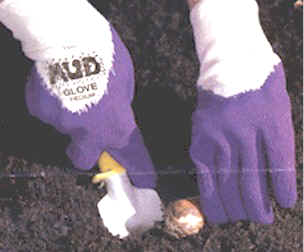 The Mud Glove is a canvas glove coated with latex in a variety of colors and sizes. It is a great help in the garden, as well as in the fields when planting, watering, harvesting, and getting down right dirty! We personally love the great fit and the roominess of the mud glove, allowing us a close, but not constricting fit.
Colors: Green, Yellow, Light Blue, Pink, Purple. Please specify size: S, M, L, XL.
Hot Tamale Gloves

The Hot Tamale Glove has great qualities too! It's fleece insulation keeps your hands warm - even when the thermometer drops below 30 degrees!. I gave a pair to my brother who is an oil delivery man out in New York, this past year - and he raves about them each time I see him. A tough vinyl covering keeps out the wetness and the cold. Try it today for your all-around sport utility glove.
Thank You for visiting Snow-Pond Farm Supply and working toward a healthy planet!