Dense Shade Grass Seed
---
Dense Shade Mix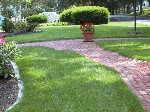 NCO Dense Shade Mix is well adapted to areas of 60% or more daily shade in mature landscapes. Dense Shade Mix has low maintenance requirements for water, fertilizer, and lime. Requires 2-3 hours of filtered sunshine per day. Dense Shade mix is made of up of the following:
40% Longfellow II Chewings Fescue
35% Titanium Tall Fescue
15% Spartin II Hard Fescue
10% Navigator Red Fescue

Area For Use: North of the Mason Dixon line.
Rate: 4-5 lbs. per 1,000 ft. 2
When To Plant: Apr 1 - Jun 10 or Aug 1 - Oct 1.
Thank You for visiting Snow-Pond Farm Supply and working toward a healthy planet!